Why don't you try weight saving?(SAIMA/310EX)
Thank you for your corporation and patronage with SAIMA.
Bolt and Screw themselves are not heavy each other, but

the equipment which consists by the many Bolts and Screws are very heavy.
If you are worried about the product weight,

why do not you consider the weight saving?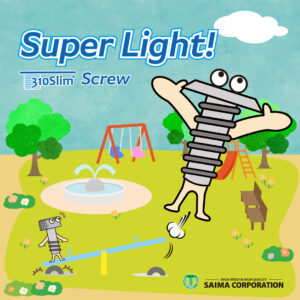 The screw which are the best choice for weight saving is

SAIMA Ultra Low Head Screw 310Slim!!
Screw Head is extremely flat, so design will be very smart and sophisticated.
If you are interested in our product, please not hesitate to ask.